Our Services
At Stanley & Sons Roofing we are your premier roofing company providing the following services throughout greater Turnersville NJ:
Residential Roofing: we provide our residential clients with a full range of roofing services including installations and repairs. Our professional staff has all the training and experience to install your new roof with absolute precision. Don't try and get up on your residential roof; leave it to the experts who have all the right equipment and expertise to get the job done right. Read More >>
Roof Repair: when it comes to roof repairs we understand that our clients have an expectation that we fix any issues. That is why we will carry out any repairs your roof requires. Some of the procedures may include cleaning, flashing replacement, fixing leaks and any other weather related damage. Read More >>
Gutters: Are yourgutters in need of some updating or repairs? If the answer is yes then you have come to the right place. Our contractors will replace or repair your gutters so that they are doing the very important job that they are supposed to do. We use seamless guttering which is available in a wide range of colors. Read More >>
Leaf Guards: if you seem to always need to be cleaning out the leaves and debris from your gutters then how about considering the installation of leaf guards? Let the team at Stanley & Sons install new leaf guards for you and protect your guttering system from contamination and blockage. Read More >>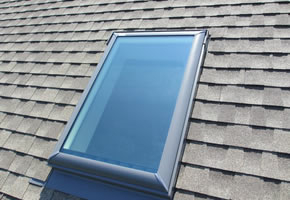 Skylights:
we use only the best
skylights
in the industry and that is Velux Skylights. By using premium products such as Velux you will be getting cleaner, quieter and safer skylights. This range of skylights is also referred to as the NO LEAK skylight.
Read More >>